Life at Adastral: Amenities
This area of the website is for people working at Adastral Park. From day-to-day news updates and upcoming events, to new menu options in the restaurant - you'll be up to date with what's happening on the park.
Amenities for Adastral Park residents
Park residents have access to a great range of amenities. This is an extensive list of what's available...
Mail centre and Goods Inwards
Opening times:
08:00 - 12:00 and 13:00 - 16:30, Monday to Friday
Contact: +44 (0)1473 644229
You can find the mail centre on the lower loading bay.
The Hub (B80)
Restaurant
You can find the restaurant in the Hub.
Opening times:
Breakfast: 08:00 - 10:00, Monday to Friday
Lunch: 12:00 - 13:30, Monday to Friday
Lunch is currently a brunch offer, pastries, jacket potatoes, soup and Grab and go items.
The menu is subject to change based on availability and demand.
Allergen information is available in the food court at the time of selection (it's currently not available ahead of time).
View this week's menu (Last updated: Fri 21 Jan 2022)
For more information, please contact Julie Cowie or Shane Simmonds.
Coffee cart
You can find the coffee cart in the Hub. It serves panini, sandwiches, pastries, retail items and coffee.
Opening times:
08:00 - 14:30, Monday to Friday
For more information, please contact Julie Cowie or Shane Simmonds.
Selecta Fridge
Open 24 hours with coffee, retail items, sandwiches etc
WH Smith
Books, stationery, magazines and much more, located in the Hub.
Opening times:
08:00 - 16:00, Monday to Friday
Franco's unisex hair salon
For all your hairdressing and barbering needs, located in the Hub.
Opening times:
11:00 - 17:00, Monday to Friday (daily closing time subject to change, call to confirm)
Call 07745 586433 for an appointment, or check the appointment book outside the salon.
Cash machine
A Barclays ATM is located in the main concourse of the Hub.
Rivus Fleet Solutions workshop
The Rivus Fleet Solutions (formally BT Fleet Solutions) garage is located in building B42, next to car park D.
It's open to both Adastral employees and the general public, weekdays between 08:00 - 17:00 and by prior arrangement only on Saturdays.
Services we offer include:
MOT testing
General repairs
Diagnostic works
Air con re-gassing and repairs
Servicing on all makes and models
To find out more about how we can help you keep your vehicle on the road call 01473 623931 or email ipswich@rivusfleetsolutions.com.
Please note that Adastral employees receive a discount on all garage services.
AtLAS - Adastral Park Leisure and Sports
AtLAS is the organisation for all leisure and sports at Adastral Park: everything from the Golf Society, BodyTalk Gym, Netball Club and lots more.
You and your family can become a member of AtLAS if you work for (or are retired from) any of the companies based at Adastral Park.
Visit the AtLAS website for more information.
Bodytalk Gym
The AtLAS Bodytalk Gym welcomes everyone who works at the park and their friends and family. It has a vast range of equipment with qualified instructors on hand to help with anything from moderate exercise to achieving the peak of physical fitness – and all at very attractive membership rates.
Opening times:
07:00 - 20:00, Monday to Friday
08:00 - 13:00, Saturday
08:00 - 12:00, Sunday
For more including how to join, check out the BodyTalk Gym website.
You can find the gym adjacent to the upper loading bay of the Aquarius Building.
BT Library
The BT Library collection includes books on technology, computing, certification, management and personal development, plus several language courses on CD/DVD. The Library also has a selection of magazines and journals which can be borrowed.
You can also browse a massive collection of online resources, including journal articles, eBooks and conference papers.
Opening times:
09:00 - 17:00, Monday to Thursday
09:00 - 16:30, Friday
Contact: +44 (0)1473 648212, or via email.
You can find the BT Library on the first floor of the Antares Building.
Electric vehicle charging
Four BP Chargemaster Electric Vehicle (EV) 7kW+ bays are located in car park E, next to the Hub (park map). You will need to supply your own lead and have an active BP Chargemaster subscription (there is no PAYG option). The Adastral Park Chargemaster EV charging points have a per-kWh charge (14p + VAT as of 8 December 2020) in addition to the monthly subscription charge. Note that as Adastral Park is private property, the charging points aren't shown on the BP Chargemaster public map. Find out more about using the Chargemaster EV charging points on Chargemaster's BP Pulse website.
Electric Vehicle charging points are located in two lamp posts in car park X (park map), at the end nearest Antares. These are part of the Ubitricity network and have a per-kWh charge on a pay-as-you-use basis (14p per kWh as of 8 December 2020). They are designated as "Destination Charging" points, so only supply power at around 2kW, but it is expected that people would stay connected all day. To use the chargers, scan the QR code on the lamp post and enter payment details into your mobile phone - this only needs to be done once. It is also possible to register for an account on the Ubitricity portal, but this is not necessary to use the chargers.
Charging points shown near B56 (park map) are for electric bicycle recharging only.
All charge points should only be used in accordance with vehicle manufacturers' guidance, using correct undamaged cables. Vehicles should be parked safely, fully within the bay, and cables should not pass across walkways, vehicle routes, or other bays. Charge point users should vacate the charging bay as soon as their vehicle is sufficiently charged.
Woodland trail
The 0.2-mile circular trail starts from the corner of car park B (top right corner of site map). The route is sign-posted and signage provides a map and more information about what can be seen. The route has minor gradients and is uneven because of tree roots, so is not accessible to wheelchair users.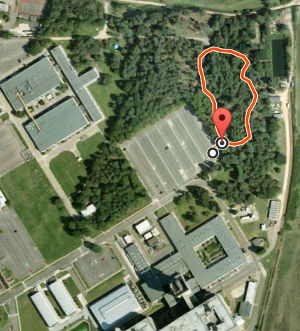 Imagery © 2018 Google, Map data © 2018 Google.
Depending on the time of year, expect to see a range of flora and fauna: from small copper, painted lady and peacock butterflies to woodpeckers, song thrush and maybe even a kestrel. The woodland comprises a variety of tree species including birch, sweet chestnut, oak and Scots pine.
Emergency assistance
In the event of an emergency, call +44 (0)1473 643333 for immediate assistance and not 999:
if you have an accident
if you need first aid
if you discover a fire
or a threat to security
All accidents must be reported by calling 0800 671345.
The park has its own urgent care, the Adastral Park Emergency Services (APES) rapid response team.