Welcome to British Science Week 2023!
"Connections" was the theme for British Science Week 2023 and we were really excited to be supporting a special week of activities for schools, with input from experts across BT, industry and academia.
Similar to our successful Virtual British Science Week 2021 and Virtual British Science Week 2022 events, we launched a new technology topic each day. The week explored all areas of STEM (Science, Technology, Engineering and Mathematics) and looked at how they influence us in our everyday lives. There were bite-sized videos, 'have a go' activities and live Q&A sessions all of which you can still take part in for free. The content is ideal for years 6 - 13 (ages 10 - 18).
Here's Lisa who will give you a brief overview of what our British Science Week 2023 consisted of:
5 subjects over 5 days
Each day during British Science Week we explored a different topic: Sustainability, Extended Reality, Digital Banking, Space and Accessibility. We looked at how all of these subject areas require STEM-based skills, whilst also looking at the exciting technology and careers that are involved.
You can still watch multiple videos, take part in activities and explore the topics in more detail:
Live Q&A sessions

Each day we held a virtual live Q&A session with our subject experts, which gave attendees the chance to ask questions about the daily topic. The recordings from each day are now available on each of the daily topic pages for you to watch back - go and have a listen!
Activity packs

We have created an activities pack for each of the 5 days' worth of topics. Download the kit list and prepare the items that you will need for each of the have-a-go activities:

We've also created a briefing pack for teachers/parents with lots more information. This contains details of all the activities to help you plan ahead. Download it here:
Meet our hosts
Meet our hosts who helped facilitate each day. They appear in our introduction videos and pop-up throughout the pages to provide extra guidance and context. Find out who they are below.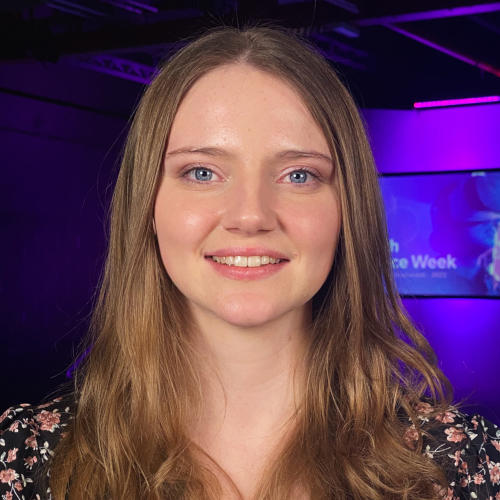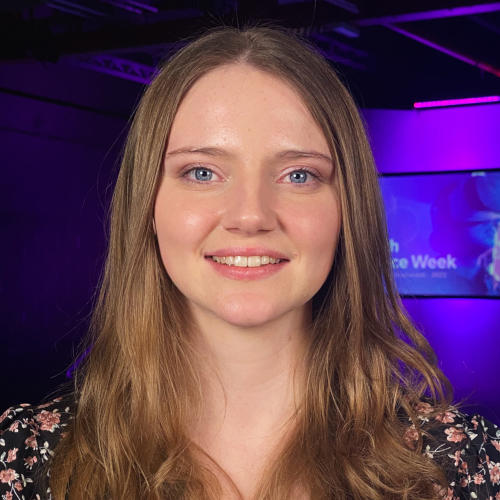 Abi J
Apprentice Researcher, BT.
Key qualifications: A-Levels in Physics, Maths, and Computer Science. I am also working towards a BSc in Digital and Technology Solutions.
What does your job involve? Researching different ways to respond to security threats autonomously. Currently this has involved exploring the different ways malware can spread between individuals and I've been applying this to Inflame, our malware simulation and autonomous response tool. In addition, as an apprentice, we get involved in many volunteering opportunities too! One that I recently got involved with, and have been enjoying, is my role as the vice chairwoman for AtLAS, the umbrella organisation for leisure and sports at Adastral Park.
How did you get into your current role? I joined as an Apprentice straight after I completed my A-Levels. I have always been interested in technology, so completed some work experience with BT. Then I heard about the BT Apprenticeship scheme and applied straight away!
What did you want to be when you were younger? I used to want to be a variety of things before deciding that a job centred around technology was for me... including, a doctor, lawyer, actuary, and a games designer.
What do you do outside work? I teach kickboxing and have recently achieved my black belt. I also enjoy most other sports such as Basketball, Badminton and Dancing.
Mo
Research Graduate, BT.
Key qualifications: MSc Bioinformatics.
What does your job involve? I am in the Big Data, Insight & Analytics team and have worked on a variety of projects, namely fairness and bias in machine learning and aiding the IP migration team. Currently, I am working on audio deepfake detection.
How did you get into your current role? I joined through the BT Graduate scheme after finishing at University.
What did you want to be when you were younger? Probably something peculiar like becoming an astronaut.
What do you do outside work? I am an avid gamer and recently I have picked up running.
Abi G
Technology Graduate, BT.
Key qualifications: A Levels (Maths, Further Maths, Physics). First Class Honours, Masters degree in Physics with Astronomy.
What does your job involve? I joined BT Research & Networks Strategy in September 2022 and am working in the Software Based Networks team. I am currently working on improving energy efficiency for BT servers. I love the mix of research and working collaboratively in a business setting!
How did you get into your current role? I did a summer placement in 2021 in BT Research & Networks Strategy between my third and fourth year at university, working in Cyber Security. I have come back now I have completed my degree and joined the graduate scheme.
What did you want to be when you were younger? I don't remember having anything too specific when I was very young but I developed a keen interest in Maths and Science in high school so carried that forward and found Physics the most exciting out of these! This led me to do a Physics degree and as I went through this I enjoyed learning about new technologies and the opportunities at BT!
What do you do outside work? I really enjoy being active including running, cycling and dog walks in the countryside. I'm a big Disney and Marvel fan and watched most of the Marvel films for the first time in lockdown.
Who supported British Science Week?
We are really grateful to our supporters in helping to bring together all this fantastic content:
Find out about more British Science Week
British Science Week is a national programme of events taking place between 10-19 March 2023: a chance to explore the wonders of the universe, meet the scientists whose research has changed our world and debate some big questions with some big-thinkers.
You can find out more about what's going on around the country and online by visiting the British Science Week webpage.
Meet the team
Find out about the team of people who have brought you the content for this event: